3cc pump dispenser/1cc pump dispenser
| | |
| --- | --- |
| | |
| K301 | K302 |
Features
Water influx prevention structure
[purpose]
Since there are times when using the pump in the shower etc., water enters the pump, it Reduces the risk of fluid alteration to the content.
[method]
Since the upper cap is structured by external thread, it minimizes the clearance between the piston shaft and upper cap. the point of water influx is closer to the ejector head, comparing water influx system of other companies, our gives a much better result.

back suction
[purpose]
when the liquid content is at the tip of the nozzle, to prevent dripping the nozzle solidification causes no dripping(jumping of the liquid content etc.) and reduces the risk.
[Method]
After discharging the liquid contents, the internal mechanism of the ejector head brings back the liquid content from the nozzle tip.
Safety improvement * PL measures
* Ejector head opening angle - (to be kept at 270 degrees)
Increase in transit and the above opening angle of the ejector head might result in leakage or By loosening the head of the ejector at a store. To prevent leakage of liquid contents the above need to be kept in mind. The nozzle is safe even in case of a fall. Because of the base of the nozzle it is better compared to other products. The quality is top level. For the The tip of ejector head`s nozzle we use a R as the safety measure for PL. As compared to other similar products delicate and tiny parts are not used. Structure is simple,which helps in realizing high Quality and Stable production .
Light Pressing
As compared to other similar products, we provide a light and smooth feel press.
Weight of the product
Compared with competitors, We aim to reduce the weight,
Specification table
Material
PP,PE,SUS
Mechanism
Direct Pressure
Dosage
3cc
No. of pieces
Tube lenght135mm below-500 pcs; tube length 135mm above-400 pcs
Recommended
bottle mouth size

Components
No.
component
material
color
1
ejector head
PP
B type
2
upper cap
PP
B type
3
container cap
PP
-
4
piston shaft
PE
-
5
seal valve
PE
-
6
accumulator
PP
-
7
ball
SUS
-
8
spring
SUS
-
9
gasket
mold packing/
highsheet
-
10
Tube
PE
-
[outline]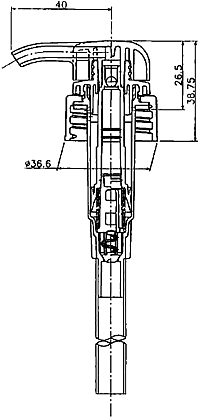 (from left)
K101 A-1,K101 A-2
(from left)
K101 B-1,K101 B-2
(from left)
K101 E-1,K101 E-2
Features
High quality
(1)New design, structure which Prevents leakage.
(2)The locking system of the ejector head is all screw type.
Tightening of the torque management, producing by part assembly
High sensitivity
6 type's
curves are shaped in way which is hand friendly.
We have three types of head design and offer 2 types of container caps.
Type 1: The diameter of 28.0mm,Type 2: 32.6mm diameter.
It responds to Various product images and enhances the originality.
To match the shape of the bottle guests can choose from several different variations.

Vivid Color - Color Variations
Your color choice, Production of the desired color tone depending on your lot. (To be Ordered separately)
* Ejector Head
* Upper Cap
* Container cap (Each component can support the original colors.)
Package design can be a combination of three parts.(Standard color is white)


Vacuum evaporation is now also available.

Option
(1)Custom-made designs are also available on the ejector head.
(2)E. 0 , Also gas sterilization process.(Ethylene oxide sterilization)
Medical instruments,Sanitary materials, And other cosmetic can be used.
Specification
Material
PP,PE,SUS,high sheet
Mechanism
Direct Pressure
Dosage
1cc
No. of pieces
container type 1 -600 pcs; container type 2 - 500 pcs
Container cap
Main dimensions

[Container Type 1]
Outer diameter:φ28.0mm
Outer diameter:φ24.3mm
Thread:φ22.0mm
height:15.9mm
Packing Thickness:1.0mm
screw pitch:3.18mm
[container type 2]
Outer diameter:φ32.5mm
Screw Valley:φ29.2mm
Thread:φ26.8mm
In height:14.2mm
Packing Thickness:1.0mm
Screw pitch:3.18mm

Recommended
bottle mouth size
Components
| No. | components | material |
| --- | --- | --- |
| 1 | Ejector head | PP |
| 2 | Upper cap | PP |
| 3 | container cap | PP |
| 4 | Gasket | SPP high sheet |
| 5 | piston shaft | PP |
| 6 | accumulator | PP |
| 7 | Piston | LLDPE |
| 8 | Spring | SUS |
| 9 | Ball | SUS |
| 10 | dip tube | LDPE |
[outline]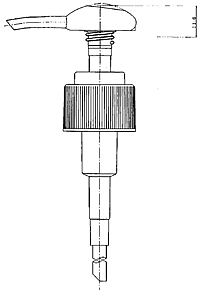 Alcohol use long nozzle
The long-awaited appearance of hand disinfectant wash dispenser

We are offering long nozzle for alcohol related use
| | |
| --- | --- |
| | |
| UP331M | |
Features
High Quality
Even in low-viscosity liquid contents , Special nozzles of the UP Series Specifications are proven, re-releasing the UP331 series.

Versatility
Because of the diameter of a conventional pump and 3cc are the same, it Does not require a special bottle.
Fine Mist
Due to the newly designed nozzle bush , it gives out a clean mist.
Specification table
| | |
| --- | --- |
| Material | PP,PE,SUS |
| Mechanism | Direct Pressure |
| Dosage | 2.7cc |
| No. of pieces | 300pcs(Individually wrapped specification:250pcs) |

Components
| No. | components | material | color | remarks |
| --- | --- | --- | --- | --- |
| 1 | ejector head | PP | White | |
| 2 | upper cap | PP | White | |
| 3 | container cap | PP | White | |
| 4 | piston shaft | PP | White | |
| 5 | pipe | PP | White | |
| 6 | nozzle | PP | Natural | |
| 7 | nozzle bush | PP | Natural | |
| 8 | piston | PE | Natural | |
| 9 | StemSTD | PE | Natural | |
| 10 | accumulator | PP | White | |
| 11 | ball | SUS304 | - | |
| 12 | spring | SUS304 | - | |
| 13 | gasket | PE | Blue | t=1.5mm |
| 14 | Dip tube | PE | - | |
[outline]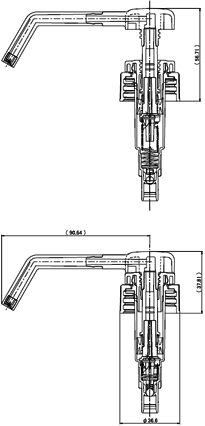 Inquiries about products and services

Please feel free to contact us by phone or by email for any comments or suggestions about our products (+81-72-634-3597)